1 of 365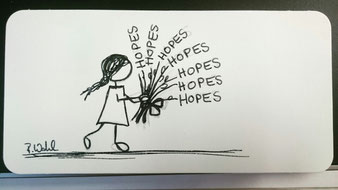 "Time and again she comes running towards you with a bunch of hopes she has found and picked in the undergrowth of the times we are living in." (Rebecca Solnit: Hope in the Dark)
2 of 365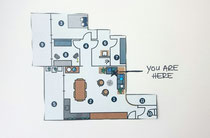 "Sie ist die Gegenwart/ It is the present." (Max Czollek: Desintegriert euch)
3 of 365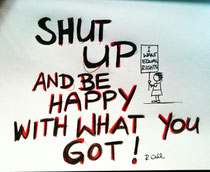 "Es kann passieren, dass man als Feminist*in frauenfeindlich genannt wird, weil man angeblich die vielen Fortschritte nicht sieht, die Frauen erreicht haben./ It might happen, that being a feminist, one is called misogynist for allegedly not seeing the progress women achieved." (Margarete Stokowski: Die letzten Tage des Patriarchats) - today's prompt: something on silencing women. Spoiler: Women won't be silenced. 
4 of 365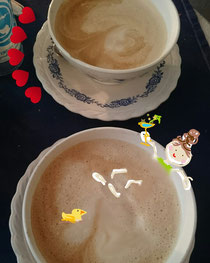 "Oder Café au lait./ Or Café au lait." (Jutta Oster: Eine heiße Liebe - Stars und Caffè). This morning, I went to a Café and found this book there (and some Café au lait). 
5 of 365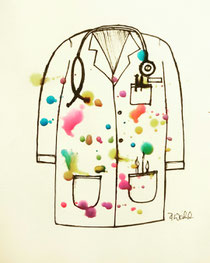 "Its huge success encouraged him to abandon his career as a doctor and pursue his true love of becoming an artist." (Osamu Tezuka: Astro Boy Omnibus). This is a request from @michelle_kangaroo (on Instagram). Thank you for this sentence and for the inspiration!  If any of you wants to share the 6th sentence from a book, too: I'd love to use it as a prompt! 
6 of 365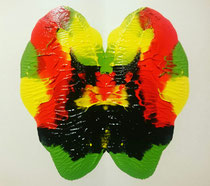 "Well, Watson, what do you make of it?" (Sir Arthur Conan Doyle: The Hound of the Baskervilles). Ah yeah... So I can see the evil bird in black... Can you see it, too?
7 of 365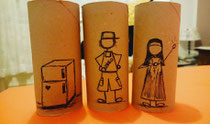 "Bingo, the owner of a surf pub is adamant that he is going surfing with the fridge, and the Mother Superior of the famous Kylemore Abbey insists on consecrating it." (Tony Hawks: Round Ireland with a Fridge) Toilet paper roll theatre! 🎉🎭
8 of 365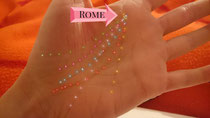 "'All roads lead to Rome' said Brida, using an old proverb to tell me that Gifts could be awoken anywhere." (Paulo Coehlo: Brida)
9 of 365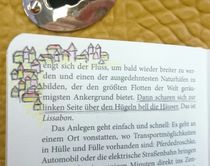 "Then, on the left side over the hills, houses are gathering brightly." (Fernando Pessoa: My Lisbon)
10 of 365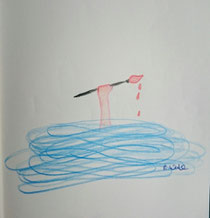 "Although Burden exhibited in New York in the 70s and 80s, she was dissapointed from the reception and completely draw back from the world of art." (Siri Hustvedt: Die gleissende Welt)
11 of 365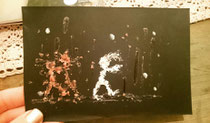 "Their footsteps grow louder now as they hunt with relentless determination." (Dan Brown: Inferno) Today: Painting nightmares with candle wax... This is a request from @discgolffanatic (on Instagram) - thank you, it's a good one!
12 of 365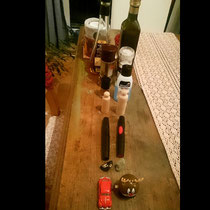 "Die TN sitzen paarweise zusammen./ The participants sit pairwise." (Marcus Koch in Beermann et al.: Spiele für Workshops und Seminare).
13 of 365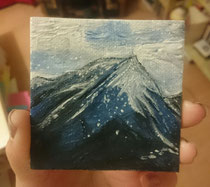 "Vielleicht kann man so nicht gleich Berge versetzen, aber schon Friedrich Nietzsche wusste: 'Im Gebirge der Weisheit klettert man nie umsonst.'/ Maybe one can't move mountains like this, but as Friedrich Nietzsche already knew: 'On the mountains of truth you can never climb in vain.'" (Brigitte Hellmann: Mit Nietzsche auf der Gartenbank) I got this magnetic (!!!) canvas from L. today. ❤
14 of 365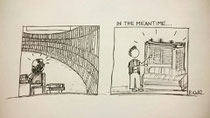 "Etwa zur gleichen Zeit als Karl Marx in der British Library in London fieberhaft an seinem Hauptwerk arbeitet, versucht Charles Babbage einen programmierbaren Rechenautomaten zu bauen: die Analytical Engine./ Roughly at the same time as Karl Marx works franticly on his most important work in the British Library in London, Charles Babbage tries to build a programmable calculator: the Analytical Engine." (Timo Daum: Das Kapital sind wir) Thank you @morekompensationforthisnation - great sentence!
15 of 365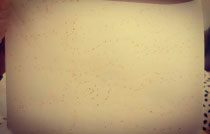 "Sand weht daher, in Wellen, in Schwaden, mit rasender Geschwindigkeit./ Sand blows, in waves, billows, with berserk speed." (Federica de Cesco: Frei wie die Sonne)
16 of 365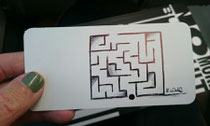 "Ich muß wohl an den Anfang zurückkehren und alles noch einmal erleben, um jene ewigen Rätsel zu lösen, denen sich jeder am Ende stellen muß./ I have to return to the start, to experience everything again, for to solve those everlasting mysteries, that in the end, everyone has to face." (Eva Maaser: Die Astronomin)
17 of 365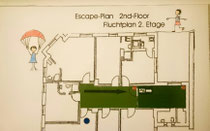 "Das kann spannend und herausfordernd sein./ This might be exciting and challenging." (Franz X. Bühler: Vom Kopf ins Herz) I found this book in my hotel room - it seemed "slightly" esoteric, but I love the sixth sentence!
18 of 365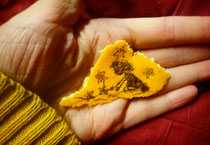 "Their fragrance filled me with an incredible thirst, and kneeling on the riverbank I cupped my hands into the chill running water and lifted them dripping, preparing to drink./ Ihr Duft erfüllte mich mit einem unglaublichen Durst und als ich am Flußufer kniete, formte ich meine Hände zu einer Schale im ruhig fließenden Wasser und hob sie tropfend an, um davon zu trinken." (Susanna Kearsley: Named of the Dragon) Drawing on mandarine - with a fragrance that filled the room. 
19 of 365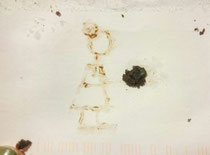 "As my grandmother, Helen Majesky, used to say, 'in baking, as in life, you know more than you think you know.'/ Wie meine Großmutter, Helen Majesky, zu sagen pflegte, ' beim Backen, wie im Leben, weiß man mehr als man denkt zu wissen.'" (Susan Wiggs: The Winter Lodge) Painting Grandma Majesky with Brownies and a chopstick.
20 of 365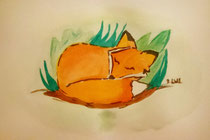 "Schlau muss man sein im Leben, und selbst die Schlauheit muß man ganz gerissen anbringen; ich sage euch klipp und klar: Die sind schlau und ich bin schlau./ Cunning is what counts in this life, and even that you've got to use in the slyest way you can; I'm telling you straight: they're cunning, and I'm cunning." (Alan Sillitoe: Die Einsamkeit des Langstreckenläufers)
21 of 365
"Es gab drei Stockwerke./ There were three stories." (Nora Roberts: Heute und für immer)
22 of 365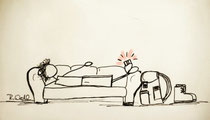 "Blasenpflaster./Blistering plaster." (Kirsten Westhues: Acht Kilogramm Vorfreude) Really: I love this 6th sentence! 😂😂😂
23 of 365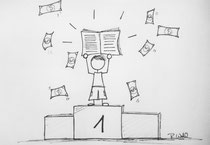 "His collection of prose 'Writing Home' was a number one bestseller./ Seine Prosa-Sammlung 'Writing Home' war ein Nummer eins Bestseller." (Alan Bennett: The Uncommon Reader)
24 of 365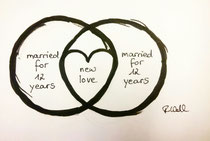 "We had each been married for twelve years before we met and fell in love./ Wir waren beide 12 Jahre mit jemand anders verheiratet, bevor wir uns trafen und uns ineinander verliebten." (Judith Bauer Gilman: Voyage of the Capricorn Lady)
25 of 365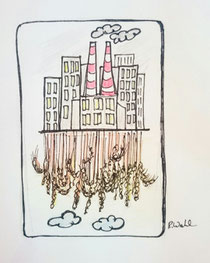 "During the 19th century the economic system of the South, based on acriculture and the slave trade, separated the region from the increasingly industrialized North./ Das Wirtschaftssystem des Südens, das auf Landwirtschaft und Sklavenhandel basierte, trennte die Region im 19. Jahrhundert vom Norden und dessen fortschreitender Industrialisierung." (Carson McCullers: The Ballad of the Sad Café)
26 of 365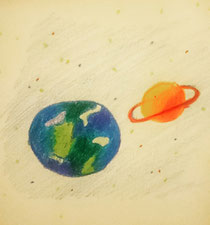 "Von einem anderen Planeten aus gesehen wäre das faszinierend zu beobachten./ It would be fascinating to watch this from another planet." (Philipp Blom: Was auf dem Spiel steht)
27 of 365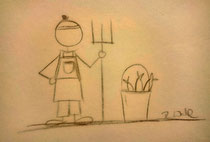 "Dem Menschenschlag wird nachgesagt, rau und wortkarg, bodenständig und heimatverbunden zu sein./ These kind of people are rumored to be sturdy and taciturn, down-to-earth and attached to their roots." (Igor Divis: Das kleine Küstenkochbuch - Spezialitäten aus Deutschlands Norden)
28 of 365
28 of 365. "Es geht doch nur um einen Kuss./ It would be just a kiss." (Jill Smolinski: Die Wunschliste). My friend Polli suggested to use wooden materials and confetti today. Here's the link to the crazy romantic video! 
29 of 365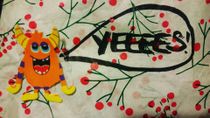 "Ja./Yes." (Stefanie Sargnagel: Statusmeldungen)
30 of 365
"Natürlich birgt ein solches Experiment mannigfaltige Gefahren./ Of course, there are a lot of jeopardies harbored in such an experiment." (Ephraim Kishon: Drehn Sie sich um, Frau Lot!)
31 of 365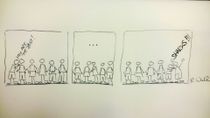 "Doch erzähle nun, was du gehört haben willst./ Now please tell me, what you think you heard." (Hellmann: Mit Sokrates im Liegestuhl)
32 of 365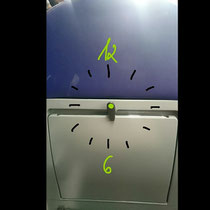 "'Half past five.'/ 'Halb sechs.'" (Georges Simenon: The Train) Sitting in the train at half past six...
33 of 365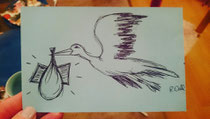 "Also thanks to Dr. Alex Lin for his obstetrics expertise./ Danke auch an Dr. Alex Lin für seine Expertise in Sachen Geburtshilfe." (Julie James: It happened one wedding)
34 of 365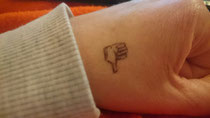 "Das ist nicht gut./ This is not good." (Mary E. Pearson: Unterbrich mich nicht, Gott)
35 of 365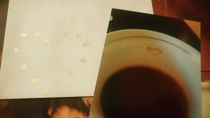 "Liebe?/ Love?" (Katrin Bauerfeind: Alles kann, Liebe muss) 💛
36 of 365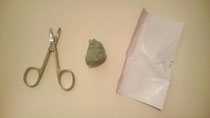 "Gewonnen hat, wer bei drei Durchgängen mindestens zweimal siegt./ Winner is the one who triumphs in two of three rounds." (Franziska Bertschy und Manfred Kaderli: Subito - Spontane Gruppenspiele mit keinem Material).
37 of 365
"Ich vergaß diese Erlebnisse - bis die Krankheit bei meinem Vater losging./ I forgot these experiences - until my father got sick." (Arno Geiger: Der alte König in seinem Exil) A time line: from the son's perspective and from his father's perspective (the book is about Alzheimer's disease). 
38 of 365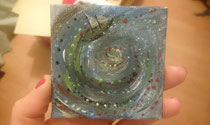 "Das Selbst und die Arbeitswelt befinden sich in einem permanenten Sog von nicht endender Veränderung./ The self and the work environment are in a permanent undertow of never ending change." (Stefanie Hoffmann-Palomino, Christine Kirbach und Bianca Praetorius: Die Lean Back Perspektive)
39 of 365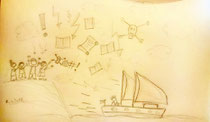 "My father, who was very ancient, had given me a competent share of learning, as far as house-education and a country free-school generally goes, and design'd me for the law; but I would be satisfied with nothing but going to sea, and my inclination to this led me so strongly against the will, nay, the commands of my father, and against all the entreaties and perswasions of my mother and other friends, that there seem'd to be something fatal in that propension of nature tending directly to the life of misery which was to befal me./ Mein bereits bejahrter Vater hatte mich so viel lernen lassen, als durch die Erziehung im Hause und den Besuch einer Freischule auf dem Lande möglich ist. Ich war für das Studium der Rechtsgelehrsamkeit bestimmt. Kein anderer Gedanke aber in Bezug auf meinen künftigen Beruf wollte mir behagen als der, Seemann zu werden. Dieses Vorhaben brachte mich in schroffen Gegensatz zu den Wünschen und Befehlen meines Vaters und dem Zureden meiner Mutter, wie auch sonstiger mir freundlich gesinnter Menschen. Es schien, als habe das Schicksal in meine Natur einen unwiderstehlichen Drang gelegt, der mich gerades Wegs in künftiges Elend treiben sollte." (Daniel Defoe: The life and strange surprising adventures of Robinson Crusoe of York, mariner -published in 1719) This was a request from @rhode_reads (on Instagram) and I enjoyed working on this classic very much. Reducing complexity and going with the first thought and stuff like that... Thank you! 
40 of 365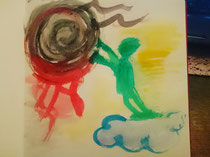 "Die Spirale der Gewalt und die Bemühungen, sie einzudämmen, aber auch der Wille, aus der Rolle der hilflosen Opfer oder der erstarrten Zuschauer auszubrechen, haben uns beide bewegt, unser Gespräch fortzusetzen./ The spiral of violence and the efforts to contain it, but also the will to overcome the roles of helpless victims and numbed bystanders, actuated us both to continue our conversation." (Tahar Ben Jelloun: Papa, woher kommt der Hass?)
41 of 365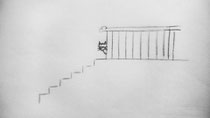 "Frau Martha ging durch das ganze Haus treppauf, treppab und miaute nach Stoffel Kätzchen./ Mrs. Martha went up and down all over the house, mewing for Tom Kitten." (Beatrix Potter: Die Geschichte von Bernhard Schnauzbart/ The Roly Poly Pudding)
42 of 365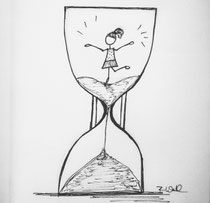 "Lebe auf Zeit und sieh, wie wenig du brauchst./ Live for a time and watch how little you need of it." (Mascha Kaléko: Sei klug und halte dich an Wunder) 
43 of 365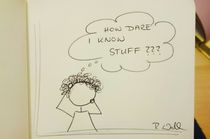 "How dare I know stuff?/ Wie kann ich es wagen, Dinge zu wissen?" (Sarah Cooper: How to be successful without hurting men's feelings)
44 of 365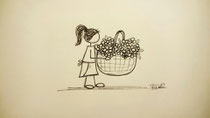 "Ihre Hände hielten einen großen Korb mit Blumen umklammert./ She clutched a basket of flowers with her hands." (Barbara Kindermann nach Alan Jay Lerner: My Fair Lady)
45 of 365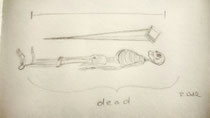 "Old Marley was as dead as a door-nail./ Der alte Marley war so tot wie ein Türnagel." (Charles Dickens: A Christmas Carol) 💀💀💀
46 of 365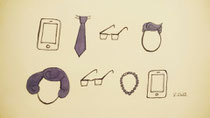 "'Good evening, I am the general manager.'/ 'Guten Abend, ich bin der Generaldirektor.'" (Kevin Kwan: Crazy Rich Asians)
47 of 365
"'Muss der Köter unbedingt dabei sein?'/ 'Do we really need the mutt?'" (Eoin Colfer: Meg Finn und die Liste der vier Wünsche. [Red lentils on porcelain]
48 of 365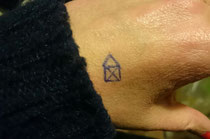 "Ich nenne es aber trotzdem Pollys Haus./Nevertheless, I call it Polly's house." (Astrid Lindgren: Polly hilft der Großmutter)
49 of 365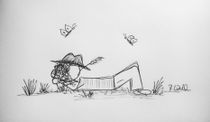 "'We rest in the afternoon.'/ 'Wir ruhen uns nachmittags aus.'" (P.L. Travers: Mary Poppins in the Park)
50 of 365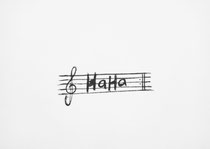 "Er lacht ziemlich oft./ He laughs quite often." (Elisabeth Harrower: In gewissen Kreisen) 
51 of 365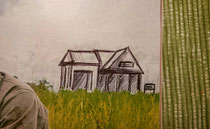 "Well yes, dear, it's a funeral home - that would be the point./ Nun ja, mein Herz, es ist ein Bestattungsinstitut - darum geht es ja." (Caitlin Doughty: From here to Eternity)
52 of 365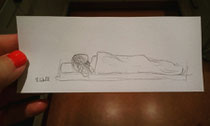 "Ihr Kopf ruht auf einem weichen Kissen, und in eine flauschige Decke eingehüllt sieht sie aus, als würde sie schlafen./ Her head rests on a soft pillow and covered in a fleecy blanket, she looks as if she is sleeping." (Gerhard Langer: Gnädig ist der Tod)
53 of 365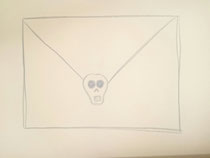 "Mein Bruder Edward hatte mir die Nachricht  vom Tod unserer Mutter übermittelt./ My brother Edward conveyed the message about our mother's death to me." (Sarah Haywood: Der Kaktus)
54 of 365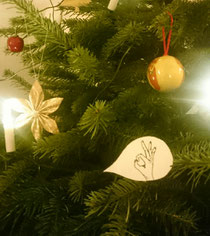 "Das war gut so./ That was good." (Nora Roberts: Geheimrezept zum Glücklichsein)
55 of 365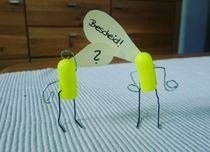 "Christoph ist jemand, der Bescheid sagt./ Christoph is one who gives a word (in German: s.o. who says "Bescheid")." (Jutta Reichelt: Wiederholte Verdächtigungen). This was a request from my friend Polli - who is a friend of the author of the book, and Jutta (the author) requested paper and wire as materials today. I added ear plugs. Thank you so much for playing along and being my source of inspiration!
56 of 365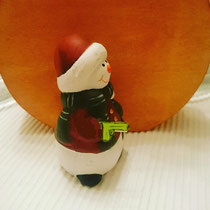 "Es ist vorbei./ It's over." (Armando Lucas Correa: Das Erbe der Rosenthals) Water Pistol Snowman Sheriff.
57 of 365
"Obwohl sie wach war, hielt sie die Augen geschlossen, denn um sie herum war es dunkel./ Although she was awake, she kept her eyes closed, because it was dark around her." (Stieg Larsson: Verdammnis)
58 of 365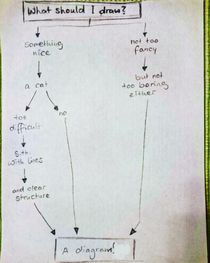 "Ja, er war sich sicher: Er hatte die richtige Wahl getroffen./ Yes, he was sure: he made the right choice." (Klaus-Peter Wolf: Ostfriesenblut) Something about choice for today... 
59 of 365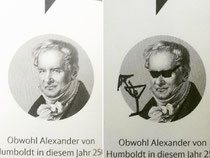 "Oder neuerdings auch als Wellness-Urlauber./ Or recently on Wellness Vacation." (Stephan Seiler/ Chefredakteur: mobil)
60 of 365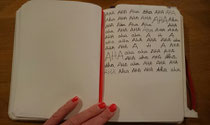 "Die meisten 'Ahas' sind weniger als eine Seite lang./ Most of the 'Ahas' are less than a page." (John Strelecky: Wenn du Orangen willst, such nicht im Blaubeerfeld)
61 of 365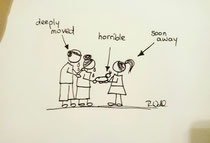 "Meine Großeltern empfingen mich tief bewegt - wenn auch einige Augenzeugen behaupten, ich sei ein gräßliches Baby gewesen - und legten mich meiner Mutter an die Brust, wo ich einige Minuten verblieb, die einzigen Minuten, die ich je mit ihr zusammensein konnte./ My maternal grandparents welcomed me with emotion - even though according to several witnesses I was ugly as sin - and placed me at my mother's breast, where I lay cuddled for a few minutes, the only ones I was to have with her." (Isabel Allende: Porträt in Sepia). Happy Birthday to me. According to several witnesses, my birth wasn't like the one in Allende's book. Lucky me!
62 of 365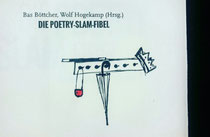 "Auf der offenen Poetry-Bühne sind weder Kostüme noch Requisiten erlaubt./ Costumes and props are not allowed on an Open Poetry Stage." (Bas Böttcher und Wolf Hogekamp [Hrsg.]: Die Poetry Slam Fibel)
63 of 365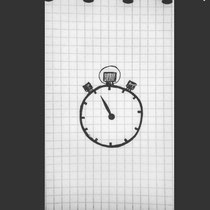 "Der obere Drücker dient heute meist dem Starten und Stoppen des Chrono-Zentrumzeigers, der andere ausschließlich der Nullstellung./ The push start on top is used to start and stop the Chrono-Center Hand, the other is used solely for the zero position." (Peter Beater: Die Stoppuhr am Handgelenk: Aufbau und Funktionsweise mechanischer Chronographen)
64 of 365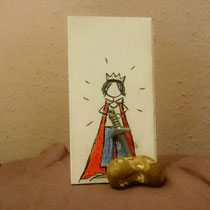 "Artus selbst hatte auch ein Schwert./ Arthur had a sword himself." (Katharina Neuschaefer: König Artus und die Ritter der Tafelrunde) 
65 of 365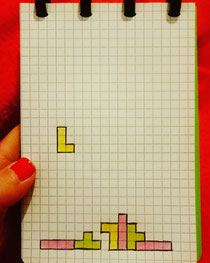 "This is part of the game./ Das ist ein Teil des Spiels." (Liam McIlvanney: All the colours of the town)
66 of 365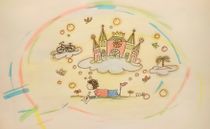 "As I sat fidgeting with my pen, I allowed my mind to roam freely down the corridors of pipe-dreaming./ Während ich da saß und mit meinem Stift rumfuchtelte, erlaubte ich meinen Gedanken ein paar Luftschlösser zu bauen." (T.M. Mainka: God, Love and Lots of Letters)
67 of 365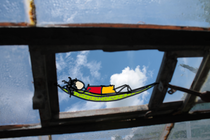 "Man könnte den Himmel sehen./ One could see the sky." (Stephan Lohse: Ein fauler Gott)
68 of 365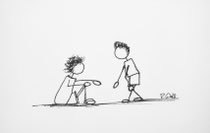 "Ich kann mich auch setzen./ I can take a seat, too." (Christine Brückner: Wenn du geredet hättest, Desdemona)
69 of 365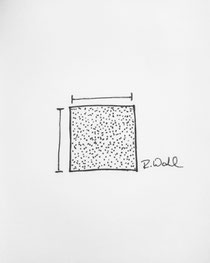 "Early in the 20th century, 90 percent of that population lived in the central part of the city, with some neighborhoods sporting a density of 73.000 inhabitants per square mile./ Im frühen 20. Jahrhundert lebten 90 Prozent der Bevölkerung im Stadtkern, manche Wohngegenden mit einer Dichte von 73.000 Einwohnern auf einer Quatratmeile." (Jenny Floro-Khalaf and Cynthia Savaglio: Mount Carmel and Queen of Heaven Cemeteries)
70 of 365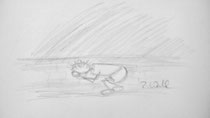 "He was deeply regretful; both for the hurt he had caused his family and of the fact that he had failed to kill himself./ Er bedauerte zutiefst, zum einen, dass er seiner Familie soviel Schmerz zugefügt hatte und zum anderen, dass er es nicht geschafft hatte sich selbst zu töten." (Christina Faull and Kerry Blankley: Palliative Care)
71 of 365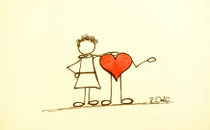 "I have no companion but love./ Ich habe nur die Liebe als Begleitung." (Rumi: Mad Love)
72 of 365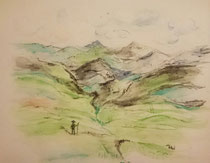 "Ein dolce vita ist der Alpsommer nicht immer, aber immer Sonntag./ The summer in the alps is not always dolce vita, but always Sunday." (Pia Solèr: Die Weite fühlen)
73 of 365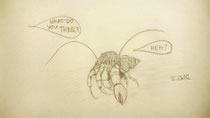 "Da entschloss er sich, einen Einsiedler zu befragen./ Then he decided to go and ask a hermit." (Leo Tolstoi: Die drei Fragen)
74 of 365
"Viele Bauern hatten auf Neujahr ein Schwein geschlachtet, sie beschenkten die Herren Könige aus dem Morgenland reichlich mit Wurst und Speck./ Many of the peasants did butcher a pig for New Year and gifted the Three Wise Men with lots of sausages and bacon." (Otfried Preußler: Krabat) [Acrylic paint on advertizing handout] I do have the feeling that this is some kind of blasphemy for today. 😬😂
75 of 365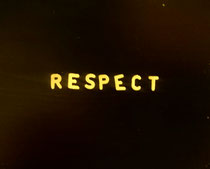 "Sie alle verdienen Respekt./ They all deserve respect." (Mitch Albom: Die fünf Menschen, die dir im Himmel begegnen)
76 of 365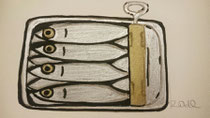 "Das Bild ist mit Absicht gewählt, denn sagte ich, daß die Sardinenfabriken ihre Mäuler ins Meer tauchten, so böten die verlöteten Fische, die am andern Ende zum Vorschein kommen, keinen Anlass zu einem schöneren Vergleich./ The figure is advisedly chosen, for if the canneries dipped their mouths into the bay the canned sardines which emerge from the other end would be metaphorically, at least, even more horrifying." (John Steinbeck: Die Straße der Ölsardinen/ Cannery Row) 🐟🐟🐟
77 of 365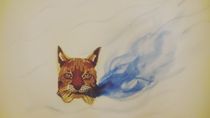 "Der Tiger bläst nur blauen Dunst./ The tiger whiffs only blue mist." (Julian Jusim und Mirjam Pressler: Kopfunter Kopfüber)
78 of 365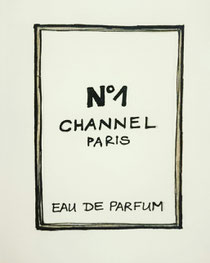 "Meine Zeichnung Nr.1./ Drawing Number One." (Antoine de Saint-Exupéry: Der kleine Prinz) More blasphemy?! 😬
79 of 365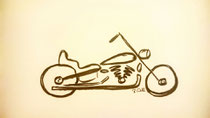 "In seiner nietenverzierten Lederjacke hatte er an Format gewonnen, jetzt war er ein finster dreinblickender Kerl auf einem respekteinflößenden Motorrad./ He gained his stature by wearing a leather jacket decorated with rivets, now he was a frowning fellow on a formidable motorbike." (Brock Yates: Mythos Harley/ Outlaw Machine) Deja vu: When I was around 16 years old, I loved to draw motorcycles. Those were the days!
80 of 365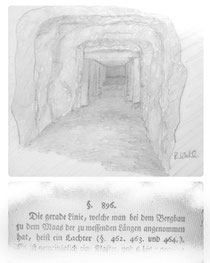 80 of 365. "Die gerade Linie, welche man bei dem Bergbau zu dem Maas der zu messenden Längen angenommen hat, heißt ein Lachter (§ 462.463 und 464.)/ The straight line that one used to measure the length in the field of mining is called 'Lachter' (§ 462.463 and 464.)" (Franz Ludwig Cancrinus: Erste Gründe der Berg und Salzwerkskunde)
81 of 365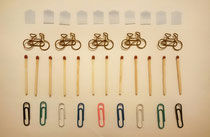 "Alles in Ordnung./ Everything's alright." (Claudio Paglieri: Kein Grappa für Commissario Luciani)
82 of 365
"Bereits zu jener Zeit nannte man Armorica 'Klein-Britannien'./ Already at that time Armorica is called 'Little Brittany'." (Peter Tremayne: Eine Taube bringt den Tod)
83 of 365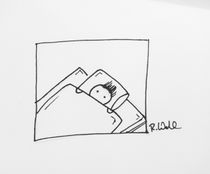 "Now, get your blanket and rest your little head./ Jetzt nimm deine Decke und ruh dein Köpfchen aus." (Dorthea Deprisco Wang: Five Minutes Until Bed)