1 of 365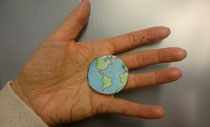 Make something that fits in your hand. There are 7.5 billion people in the world. During my new project I want to tell stories from 365 of them: stories from random strangers, from people I knew my whole life, from my ancestors, from people I meet at work, from people I like, from people I don't like, from people all around the world and from people next door...AND I'll use Noah Scalin's book again "365 A Daily Creativity Journal" - it feels like coming home. 😉 
2 of 365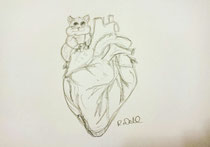 Inspired by a favorite animal. A few years ago I worked with young people and one evening we sat by the campfire and the conversation turned serious and one of the girls told us that a few months ago a friend of her died, another girl added that her father died when she was younger... Then a boy began to speak and said, that his hamster died, too: "You know, it grew dear to my heart!" - and it was great: nobody laughed or made fun of him. Everyone just turned silent.  Then after a few moments the first girl started giggling and when we wanted to know what's so funny, she just said: "Sorry, I was thinking how it would look like, if his hamster would actually grow to his heart." 😁
3 of 365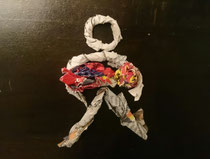 Use paper without scissors or glue. My little godchild was baptized today.
4 of 365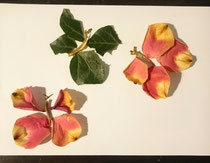 Take a walk outside and make something with the materials you found there: Rose petals and ivy butterflies.
A few years ago, I went out for a night partying with my flatmates and one of them got a little drunk and bought all of us roses from a flower seller. He didn't explain why and I remember that we were all slightly confused and weren't sure about the appropriate reaction to this gift. But I kept the (now well dried) rose to this day. Aforesaid flatmate was also known for his proclivity for absinth and falling asleep with loud pop music.
5 of 365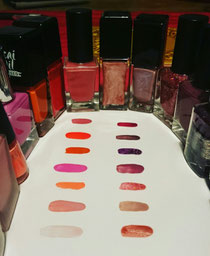 Use a collection.
I think it's safe to say that I tend to collect nail polish (this is just a selection). 😬😁 The second one on the left is the nail polish, my cousin used for her wedding.
6 of 365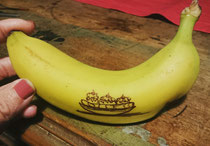 Use a fruit or vegetable. A student named David E. Strickler thankfully invented the first banana split more than 100 years ago. 
7 of 365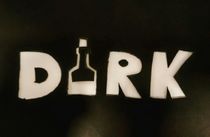 Make a stencil. There was a boy who came to my hometown just to drink some liquor with the pastor...
8 of 365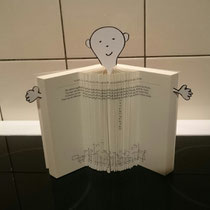 Transform an old book into something new. This book was a gift from my colleague who recently retired. He had to clear his office and didn't want to throw everything in the bin. This is kind of a portrait of him...😊
9 of 365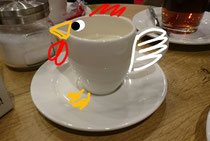 Make something with your breakfast. 
After I finished my studies, I moved to a town with a lot of chicken farms in the neighborhood. And my friend from university - he is strictly vegan and an animal rights activist - said: "I'll come to visit you and we go free the chickens!"
10 of 365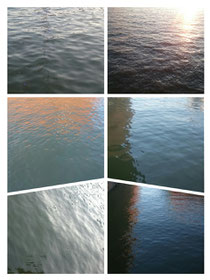 Use water as your inspiration. I went to Hamburg today and to the harbour (I took the pictures there) - the first time I went there on holiday about 15 years ago, I met a retired captain who told me he dreamed about living in the mountains. He was tired of the sea, he wanted to experience something else at the end of his life.
11 of 365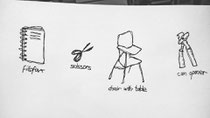 Work with the other/ nondominant hand. My friend is left handed and these are some of the things she is struggeling with.
12 of 365
Camouflage something. I got this ladybug from a pharmacist. He said he loves to give them to his customers to brighten their day. (By the way a very good strategy to build up a clientele 😋☝)
13 of 365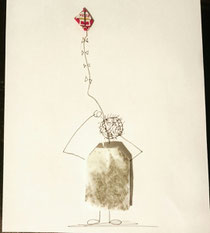 Work with tea. A few years ago, my father and his friends used to make their own kites and they also made kites for us kids.
14 of 365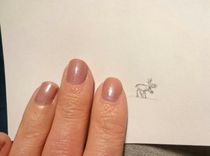 Make something microscopic. When you ask people what crazy stories they can to tell, sometimes you hear that there are four year olds who accidentally kill raindeers by feeding them poisonous plants.
15 of 365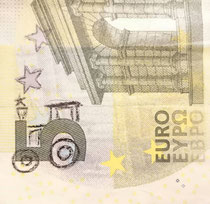 Use a one dollar note. Or in my case: a five euro note. Two weeks ago, I met a farmer in the train, he was on his way to his grandmother and we shared an apple and some stories about our grandmothers. 😀🍎
16 of 365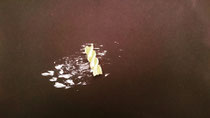 Make a unique print. My artist friend W. never uses brushes, but all kinds of other materials to print and paint and draw. I think that's really courageous and impressive. So here's a noodle print in his honor.
17 of 365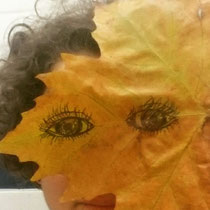 Make something that goes over your eyes. Autumn leaves for today and the story of my former flatmate who went on a walk with me, suddenly stopped and said: "Now breathe in and smell the roses, and if there are no roses at least we smell the rottening leaves!"
18 of 365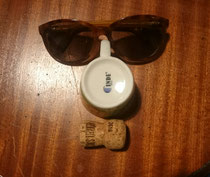 Make something with what you find in your car. - Or: in my bicycle bag. My co-worker always has a bottle of sparkling wine in her office - just in case. I like her style.
19 of 365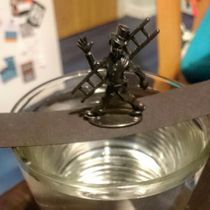 Make something that floats on water. Today, my uncle met the man who came to clean the chimney of my uncle's house. He got very excited, took a picture of the sweep and sent it to me - to show me how handsome chimney sweepers are these days. 😶😁
20 (21) of 365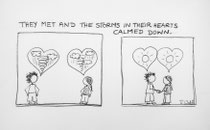 Write a ten-word love story and illustrate it.
21 (20) of 365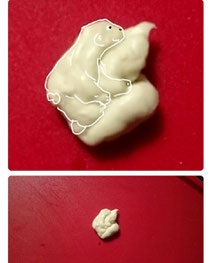 Work with clay. I didn't have clay so I used chewing gum (almost clay 😅😁) and formed this polar bear. It reminds me of a children's book about a little polar bear, one of my friends from kindergarden loved very much. 🐾❄⛄
22 of 365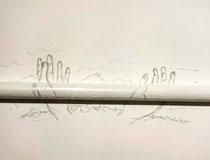 Build a bridge. This is my homage to the Cau Vang Bridge in Vietnam - "The Golden Bridge" was planned by six architects from Ho-Chi-Minh-City in only one year. 
23 of 365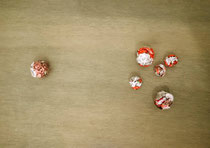 Dig in the recycling bin for today's materials. - Me and Them.
24 of 365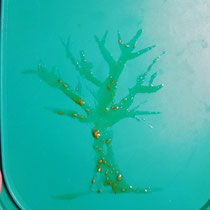 Work green on green. When I did an internship with a forester, the woodmen showed me how to plant trees. This is a pesto tree on Tupperware. 😉🌱
25 of 365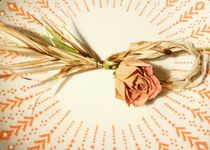 Work with nature. I continue these stories about people who kindly offered me internship positions: Once I did an internship at a flower shop. That was a great one. The shop owner was a nice lady and I got my salary in flowers. 🤗🌸🏵💐
26 of 365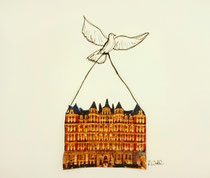 Make something portable which usually isn't. Yesterday I met a person who moved for the fifteenth time - and he is only 20 years old.
27 of 365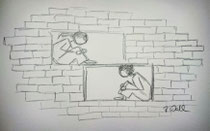 Inspired by a current dream. I asked some friends about their current dreams: There was a lot of fleeing and hiding in the dreams...
28 of 365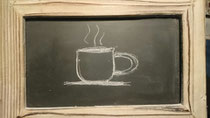 Work with materials from school. Okay, this is very old school. This morning my colleague came to my office, brought me some coffee and said he just wanted to check in on me and wish me a good day.
29 of 365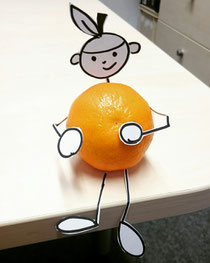 Make a disguise. Little tangerine man. 🍊😎✌
30 of 365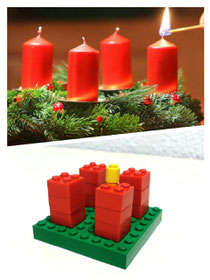 Work with toys. Today I made Advent wreaths with 30 children and their parents. That was fun. 😅✌🕯
31 of 365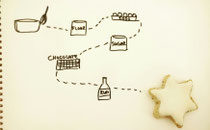 Make a path for others to follow. One of my colleagues really really likes sweets, so I made some early Christmas cookies for our meeting tomorrow. 
32 of 365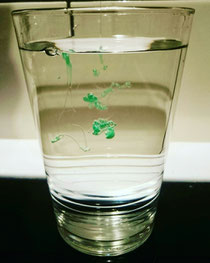 Make something ephemeral. Liquid soap in water. This reminds me of the lava lamp my brother had when he was a kid.
33 of 365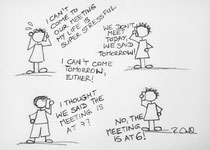 Work with pens. Today's résumé: Meeting with friends isn't easy. 🙈😂
34 of 365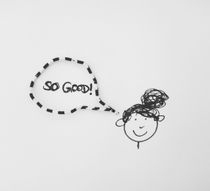 Use wire today. This is a paperclip speech bubble in honor of the students I worked with today. They were so good in speaking in high terms of each other! 😍👌
35 of 365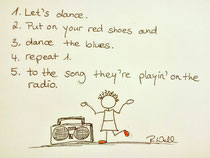 Make instructions and have someone to try it out. We were dancing today...Not only to David Bowie. 😉💃
36 of 365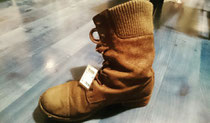 Make something old look new. 10 years ago I went on a hiking trip in England with these boots and a friend and we got the muddiest shoes I ever saw.
37 of 365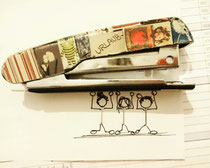 Work with a stapler. My former flatmates and I have selfmade friendship-staplers. 💪😁
38 of 365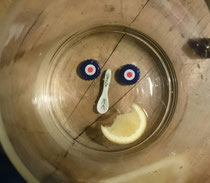 Work under water. I tried to, but the lemon kept on floating around. 🙈😁🍋
39 of 365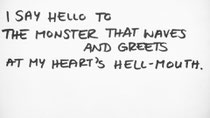 Write a haiku about something that happens today. Well, hello there. 👋
40 of 365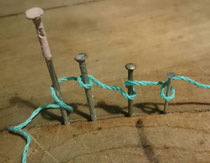 Work with yarn. Today I talked about  generations and how we are all linked together.
41 of 365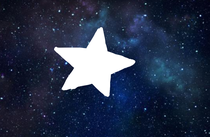 Make something bigger as it usually is. To the shining hours today! 🌟🍸
42 of 365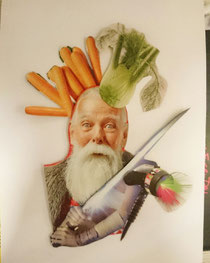 Use junk mail today. It was a crazy day with a lot of people going crazy. I turned it into a collage. 😅✌
43 of 365
Learn something new from a friend. Today, I visited a very clever friend who told me that I don't have to be an expert in everything - which was new for me: I thought I need to be one. 😬😉🙈
44 of 365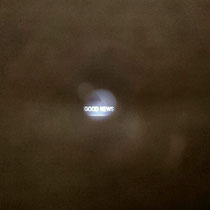 Light something up. I let the screen shine through a hole in a piece of black paper, so one can read "Good News" at the horizon. 😊🌟
45 of 365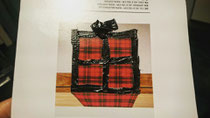 Work with tape. I exchanged gifts with friends today.
46 of 365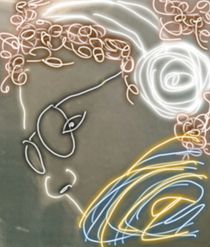 What can you do with your face? I can take a picture of it in the train window and work with an app to put color on it.
47 of 365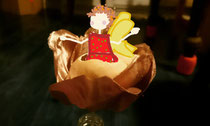 Work with flowers. I worked with a flower AND a shell (looks like an egg but it's a shell😁) and put a flower fairy in it. I talked about fairytales with a co-worker...
48 of 365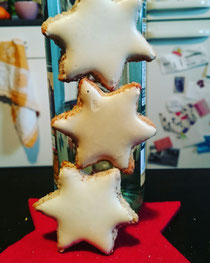 How tall can you make something that (almost) stands on its own? My mum made these! 😍🌟
49 of 365
Use a lot of something. I used a lot of dots to create this capricorn, which is my star sign. We had a fun discussion about star signs during this year's last meeting with my colleagues.
50 of 365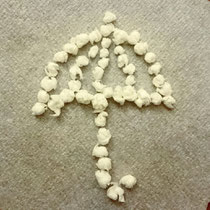 Work white on white. Everyone's prefered utensil today...
51 of 365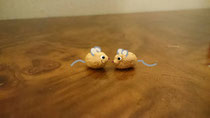 Make something that wouldn't normally considered as cute or cuddly into something that is. Peanut mice. Something about a Christmas mouse in the house I discussed with people today. 🐭
52 of 365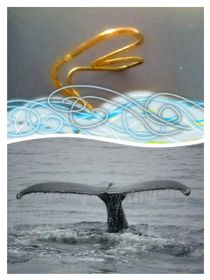 Work upside down. Whale watching!
53 of 365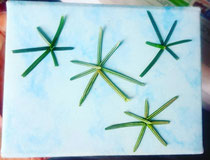 The sense of smell. Christmas tree decorating with the family... 😬😅🌲🌵🌴🌟
54 of 365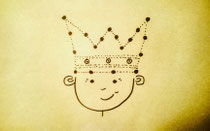 Make something with dots.
55 of 365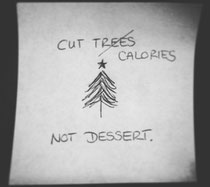 Write an advertising jingle for something in nature: "Oh Christmas tree, Oh Christmas tree...you are extremely sugar free!!!"
56 of 365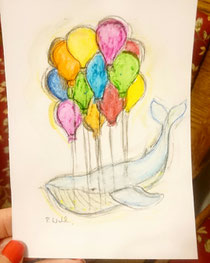 Make something heavy seem light. A Whale again. This seems a good metaphor for the things, someone told me today: trying to see the light side of heavy things. 🤓✌
57 of 365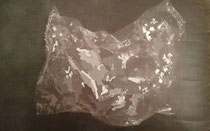 Use a disposable plastic bag to create something new today. "Do you need a bag?" the bookseller asked today. "No, thanks."
58 of 365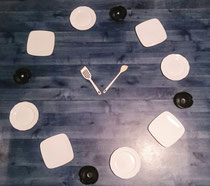 Make something as big as you can. I took the train today and watched the other passengers and let me just say: I wished some of them had a watch to see what time it is (maybe not as big as this, but still...) - one woman almost missed her stop, everyone was running... 😱🙈
59 of 365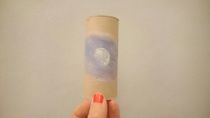 Work with two materials that generally don't go together. Moon at day with acrylic color on toilet paper roll. Somehow the moon is one of the favorite topics I discussed with people, lately.
60 of 365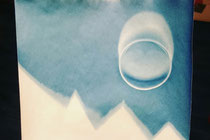 Make something that casts a shadow and document only the shadow. I experimented with cyanography and used some kitchen utensils and was curious about the outcome. I got the paper from a friend who knows me well...
61 of 365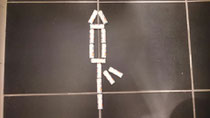 Use things from the bathroom. No tampon tax from tomorrow on: A lot of people raised their voices (for years 🙄) and it worked! 🎉
62 of 365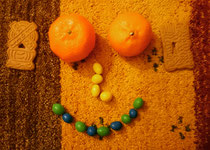 Make something with your dinner today. It's the New Year's Day Face. 💪😎😅
63 of 365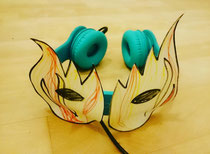 Create a unique mask. The ticket inspector in the train today, advised a passenger to mute his loud music: "If there were a fire on the train, you would not hear any announcements and be the first to burn to death!" - Ooookaaaaay. Rigorous. 😬😅🎧
64 of 365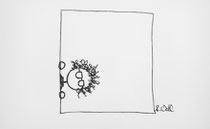 Incorporate yourself in whatever you make today. - Hello from the other side. 👋
65 of 365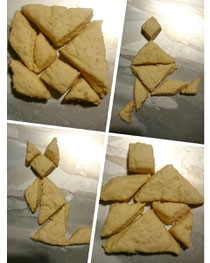 Work with the classic tangram shapes. I had the following discussion with a friend after I declared that I really like baking:  
- "I don't like to bake." 
- "Why?"
- "You need a recipe. I don't like to do things with recipes." 
- "I don't need a recipe to bake something." 
- "Okay, then you need experience. Either a recipe or experience. You see the dilemma?" 😁
66 of 365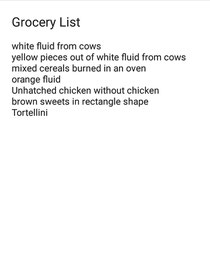 Go to the grocery store to find your materials. I stayed at home today, because it's Sunday. But I need to go to the grocery store tomorrow: So I wrote my grocery list and since tomorrow is my first workday of the new year, I remembered that sometimes talking to people at work is like talking to aliens. Therefore I wrote a grocery list for aliens. 😅🖖
67 of 365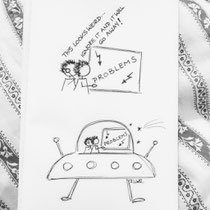 Write a ten-word science fiction story. A conversation I had with my colleague today. I sense I will have this conversation in future workplaces, too. 😬😂🙈
68 of 365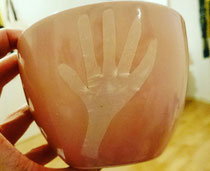 Work with paper maché. It is a kind of paper maché technique I used for today's prompt. It says "Stop!" which is the same thing, the group I worked with said today: "Stop! We want to do it in a different way!" - and so we did. ✌😀
69 of 365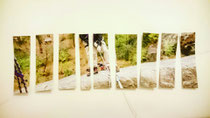 Create a puzzle. "Trust the process" was my mantra today, while working with the people in my seminar. 😌
70 of 365 Work with numbers today. My colleague enthusiastically  tried to convince me, that 7 is the most special number. 🤔😂🙌
71 of 365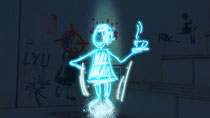 Make something that seems from another time. My friends and I couldn't find dates to meet in person and have some coffee, so we thought about being present as holograms... 
72 of 365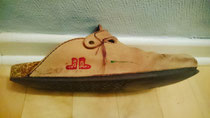 Work with shoes. @tanja8292 and I talked about red rubber boots to walk confidently in the puddles of life. And she got her pair today! 😍... And I drew myself a pair on my house shoe. 
73 of 365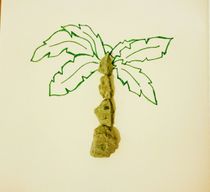 Work with stones and gravel. What I really like at the beginning of the new year: everyone makes plans for the (summer) holidays. 😍🏝🏖
74 of 365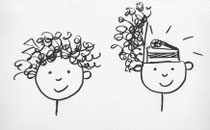 Go to a restaurant or cafe and ask for your materials for today. - Went there, got a cake (from very nice employees), ate the cake (it was delicious), and I forgot to use it as my material. 🙈😂
75 of 365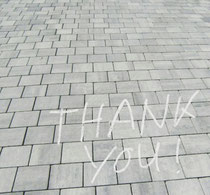 Get some chalk and work on the sidewalk. Saying a heartfelt thank you to each other after a productiv meeting at work is my new favorite thing.
76 of 365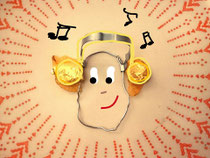 Make something inspired by and that goes over an ear. Party-leftovers from an After-new-years-eve-and-christmas-party.
77 of 365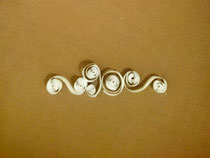 Use shredded paper. "It comes and goes in waves", she said.
78 of 365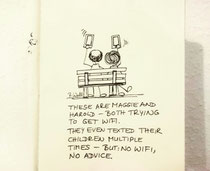 Make up a name and back story for a stranger you see today. Maggie and Harold. 📱🤔
79 of 365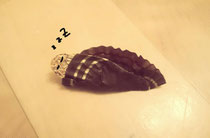 Find trash in the streets. Not everyone gets enough sleep these days...
80 of 365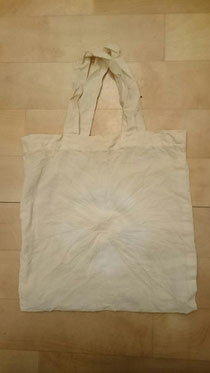 Try dyeing. I used green tea to dye and did some basic tie-dye technique as we did with the kids at children's camp.
81 of 365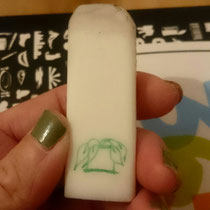 Use a rubber. This is for the people who unintentionally kill their plants (rub them out so to speak). 
82 of 365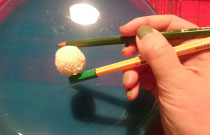 Create a new utensil. Not new, but handy in case you need chopsticks - and I went sushi eating today, so... 😎
83 of 365
Make a visual pun. Chris: cross. = criss-cross. ⚡
84 of 365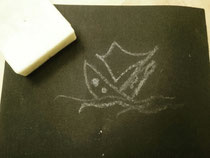 Use soap. My colleague and I played Battleship with the QM report... Don't ask...😂🙈
85 of 365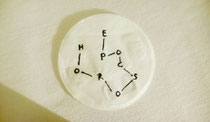 Work with words. I asked: "What is your word of the day?" And the answer was: "Horoscope". ✌🌚
86 of 365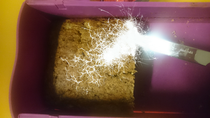 Decorate a cake. This is overdramatic icing - I see parallels to  some people's talk...
87 of 365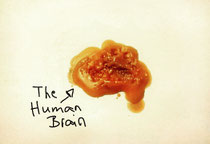 Use candle wax. "What's the word of the day?" I asked. "Psychoneuroimmunology." they said. --> Sorry about this in-joke, but at least two people are going to laugh, when they read this. 🙈😂
88 of 365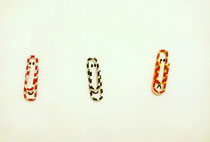 Use things you find in the office. Nonverbal communication.